Medieval Upbringing 7DRL
You FINALLY have a chance to become a kid in the slightly-fantastic medieval England.
Develop your skills, take on small jobs, fight your inner demons, and participate in tournaments - all to ultimately achieve good standing when you are recruited into the army. Featuring a skill tree of over 100 skills, numerous endgame fates, a puzzle-like Mind Map of your inner development, and a ton of achievements to unlock.
Check "What were the rules again?" section of the Information tab for the rules and hints.
The game autosaves after every turn, so you can safely refresh the page or close your browser without losing progress!
Check out the leaderboard for the heroes of Medieval Upbringing.
Comments
Log in with itch.io to leave a comment.
Thanks for sharing this on the stream!

managed to get deadweight.
Hehe are you "guy"? You are the first non-testing account that got to this impressive achievement :D
i am guy, my second one was deadweight, my first one i was a doctor. which is probably the job that leaves me the best chance of survival.
If you want to see a playthrough with a lot of tournament wins and learning a secret skill, check out my attempt here:
A great game. Time flew away
Thank you! Feel free to share your endgame screen, or leaderboard name, or anything really - I love seeing people's statistics :)
I put in Carl. I don't think it went that well haha
Got a necromancer ending! (itch isn't letting me paste the photo).
GG! It was fun, I managed to pivot from being an archer to necromancy once I unlocked that skill. Man I was so stressed that I wasn't going to be able to master necromancy before being drafted :P
WOOOT amazing! Congrats and thanks for playing =)
P.S. There are 5 more secret endings to get xD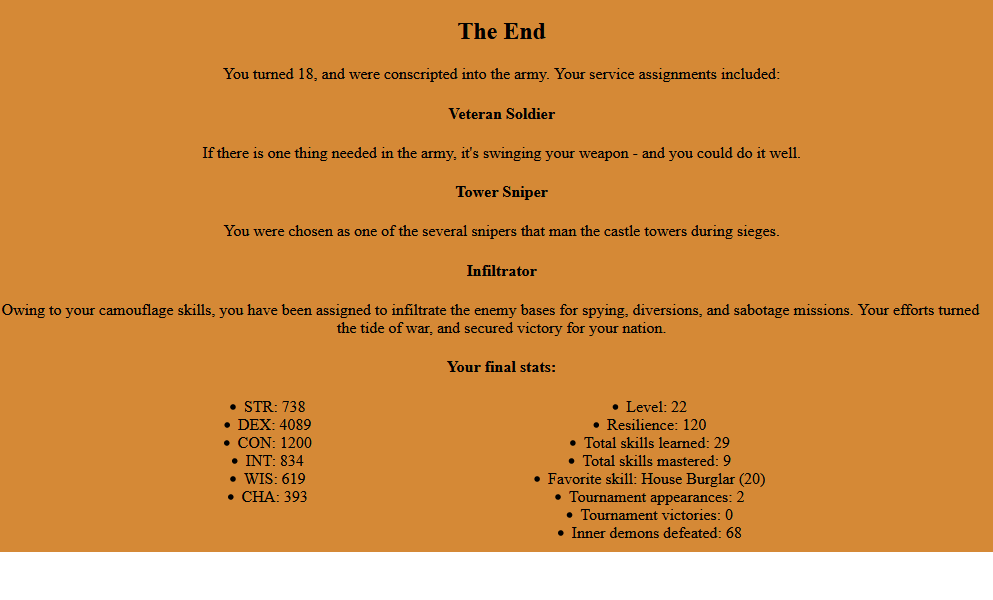 This game rules.
Woah you unlocked one of the secret endings (Infiltrator) - the first one to do so! Congrats!!