Heroic Age: the Roguelike
A downloadable game for Windows, macOS, and Linux
This story takes us to the times before the Trojan war, when Ancient Greece was full of brave heroes and fearsome monsters, and the gods looked upon everyone from Mount Olympus and took active participation in the matters of men.
Away from all these adventures, in the quiet city of Eleusis, you and your beloved wife lived peacefully, perfectly happy just to have each other. But one day she got sick, and her strength left her, and she became chained to the bed. No potion, no prayer, no healer in the city has been able to help her.
As your wife grows weaker by the day, you embark on a quest to find the cure.

If you're more into mechanics than storyline:
- Explore the maps generated based on real-life regions of Greece
- Choose your equipment from a vast array of weapons and items, balancing damage, precision and energy consumption
- Ride beasts to conserve your energy and increase evasion
- Use magic to either attack enemies, protect yourself, or even sow discord between opponents
- Employ charisma to lead small teams into battle
The game lets you submit your result when you win or die, and the leaderboard can be found at http://www.heroicage.info/heroic-age
Install instructions
Note that each archive comes with a user manual, reading which is somewhat essential to playing successfully :)
Mac: Unzip the downloaded zip archive, right-click on the "Heroic Age the Roguelike" executable, and hit "Open" twice.
Windows (64-bit): Unzip the archive and run the .exe file.
Linux: Unzip the archive - as long as you have libGL, the enclosed "Heroic Age the Roguelike Linux" executable should work right away.

Download
Comments
Log in with itch.io to leave a comment.
Just d/l it, and it runs just fine. How do you save the game?
Thanks for downloading! You can save the game by hitting "Save Progress" button at location menu in any city, as long as you're playing normal mode.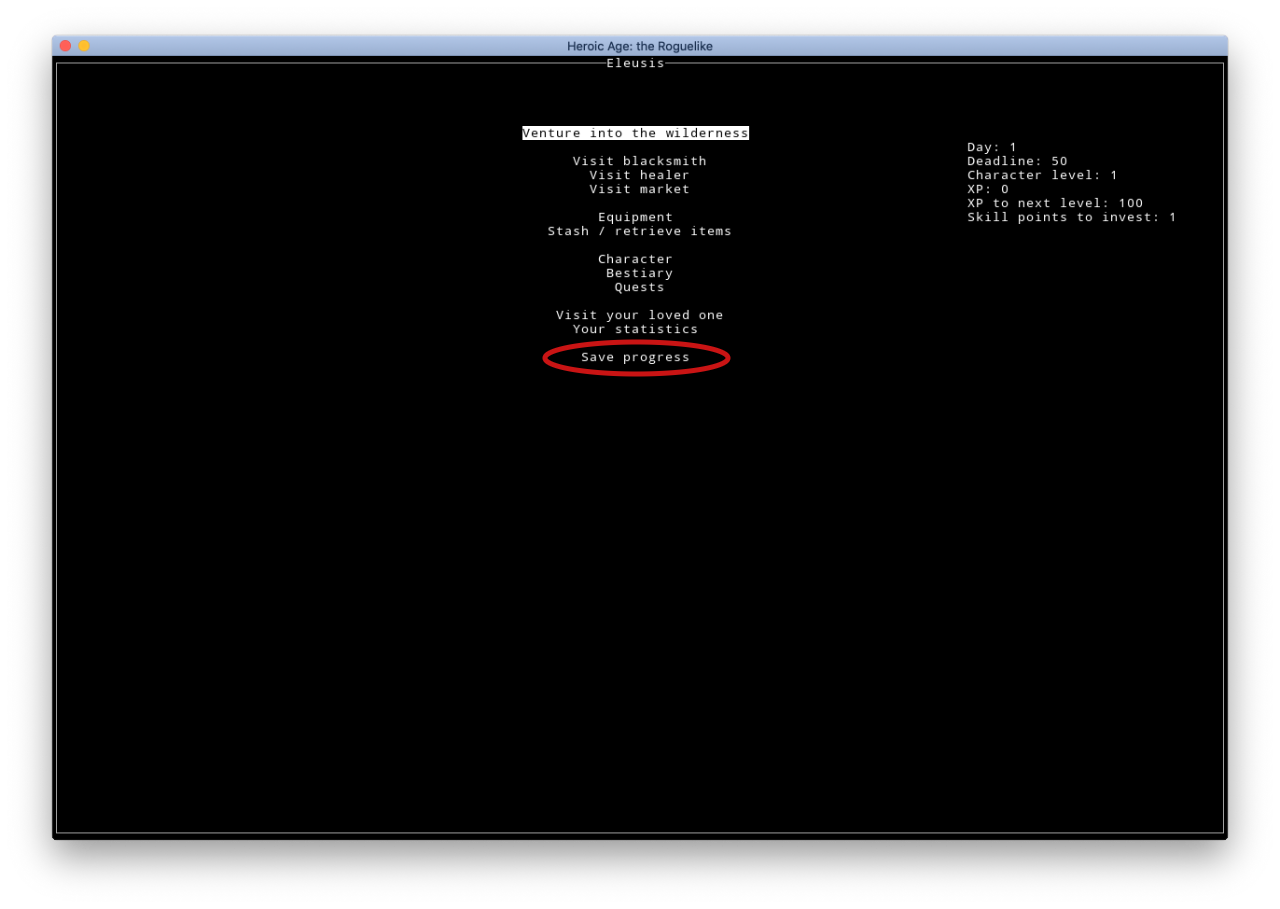 Strongly recommend! I couldn't have imagined that I already spent 50+ hours on it after downloading this game. It's super complete, with a very mesmerizing storyline, and 7 different endings.
The game is also very challenging though. It might take you 1 hour to figure out how to survive your brittle hero at the very beginning of the journey. Control setup is not the most intuitive. But with all that said, this game fully worths your try! If it were published in the 1980s, it would have been legendary.
Actually, I'm already looking forward to a DLC / sequel of this game!
Thank you for the kind words! I was honestly quite surprised with the amount of time you invested into this game, and I am really happy you enjoyed it!