Medieval Upbringing 7DRL
Comments
Log in with itch.io to leave a comment.
Thanks for sharing this on the stream!

managed to get deadweight.
Hehe are you "guy"? You are the first non-testing account that got to this impressive achievement :D
i am guy, my second one was deadweight, my first one i was a doctor. which is probably the job that leaves me the best chance of survival.
If you want to see a playthrough with a lot of tournament wins and learning a secret skill, check out my attempt here:
A great game. Time flew away
Thank you! Feel free to share your endgame screen, or leaderboard name, or anything really - I love seeing people's statistics :)
I put in Carl. I don't think it went that well haha
Got a necromancer ending! (itch isn't letting me paste the photo).
GG! It was fun, I managed to pivot from being an archer to necromancy once I unlocked that skill. Man I was so stressed that I wasn't going to be able to master necromancy before being drafted :P
WOOOT amazing! Congrats and thanks for playing =)
P.S. There are 5 more secret endings to get xD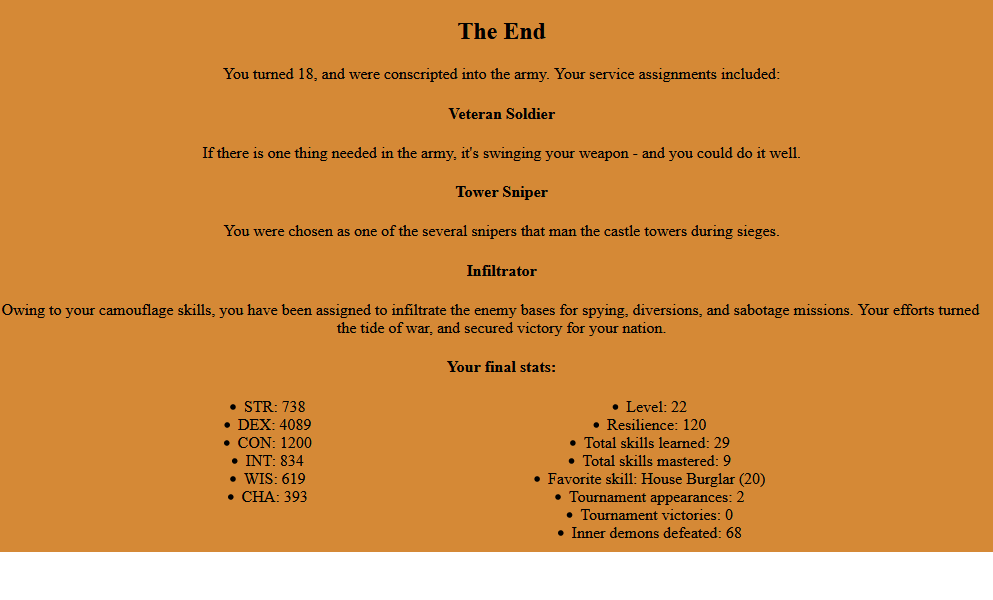 This game rules.
Woah you unlocked one of the secret endings (Infiltrator) - the first one to do so! Congrats!!